14 Aug
I must admit, I'm a sucker for supermarket flyers. I'm always trying to find good deals when I'm cooking at home, especially since I'm spending the majority of my money on meals out every week.
Since Fresh Market opened in Saratoga back in May, I've gotten to know their weekly flyers better than any other local store. My favorite item to check out is their $20 family of four meals, where they basically give you all of the ingredients to prepare a meal, from tacos to hamburgers, for a family of four.
When I saw the August flyer come out, I was very excited to see the featured Thursday Little Big Meal was stir fry.
Included in the meal was:
Your choice of 16 oz sirloin steak strips, 24 oz chicken breast strips, or 1lb peeled/deveined shrimp
1 pre-packaged stir fry kit
1 12 oz salted or unsalted pre-packaged dry roasted peanuts
Your choice of organic soba or udon noodles or nishiki premium rice
Your choice of simmer sauce
Your choice of flavor pound cake
Not kidding, it was a lot of ingredients.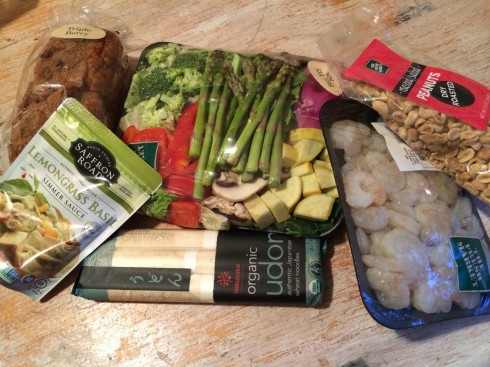 The vegetables might not look that huge in the picture, but there were SO many in that package.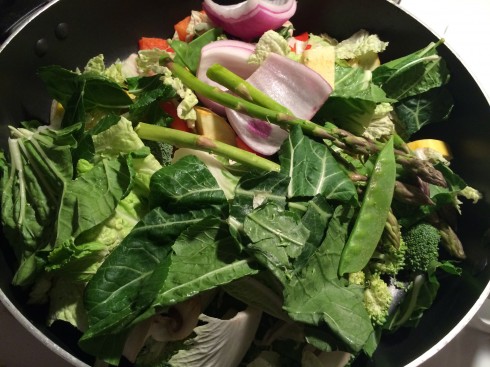 Piled high, as you can see. I put all of the veggies in a large saute pan with about 2 tablespoons of olive oil. After I put the lid on, the vegetables cooked down and absorbed the flavors of one another.
When they were just about done, I threw in the shrimp, 3 tbsp soy sauce, and salt and pepper.
Like a ninja, I was also cooking the udon noodles, which only take 4 minutes to cook in a pot of boiling water.
When both finished simultaneously, I dropped the noodles into the stir fried vegetables and shrimp and tossed it all up.
To complete the dish, I added some chopped peanuts, and voila!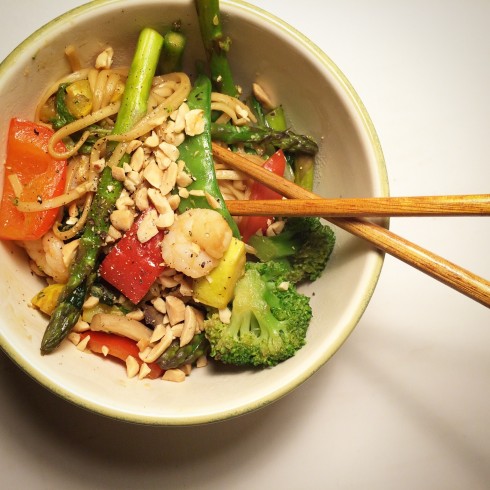 I mean… how good does that look? Yeah, it tasted great too.
While I didn't use all of the items I was given in my brown bag of ingredients, the good news is I have them left for another meal!
For $20, this is an absolutely fantastic deal. It also could not have been much easier to prepare, as it took me about 15 minutes from start to finish.
Find their monthly meal deals on their website, or sign up for their weekly flyer!