18 Apr
On Wednesday, April 16th, I participated in my very first wine tasting class at The Wine Bar. While it's definitely not my first wine class, it was the first at The Wine Bar for me, and I was certainly in need of some vino to polish off this particular Wednesday.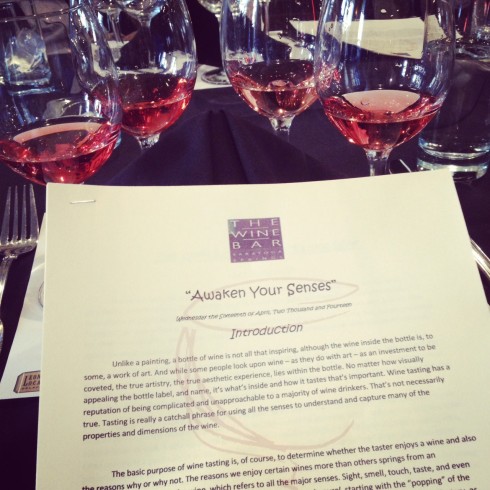 Similar to the first wine class that was held at The Wishing Well, the class was a blind tasting, and while we could tell the colors of the actual wines, we had to use our senses to figure out what the wines actually were.
What was so incredibly interesting to me was the fact that there were so many things I learned in this class that I'm positive was taught in the class at The Wishing Well that I just didn't pick up on… and brought me one step further in my knowledge and understanding of wine.
So back to it – the instructor, Joe Armstrong, really pushed us to use our eyes, our nose and finally, our taste buds. Sure, it can get frustrating not being able to take a sip of several glasses of wine sitting in front of you at first, but patience is a virtue, right?
We observed the colors of each glass against a white piece of paper to see how "cloudy" each wine was, the viscosity or the ring around the outside of the wine when you tilt the glass to a 45 degree angle, and tried to pinpoint the exact tint of each wine.
After observations, we smelled. Man oh man did we smell those wines. Each one was different, but the differences really came out as time progressed. I will say that I find roses the most challenging wine to understand. I want to understand them, I want to get them, but I just don't.
Along with the roses we were presented with this beautiful appetizer, a piquillo pepper stuffed with chevre on top of an avocado crema with toasted pumpkin seeds.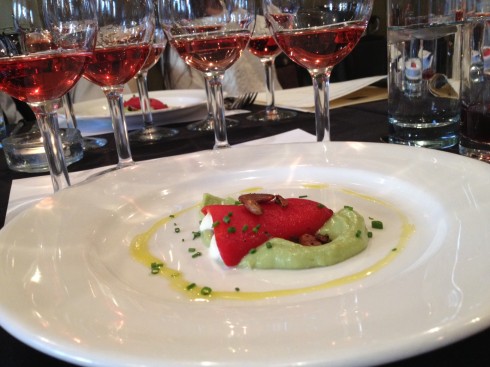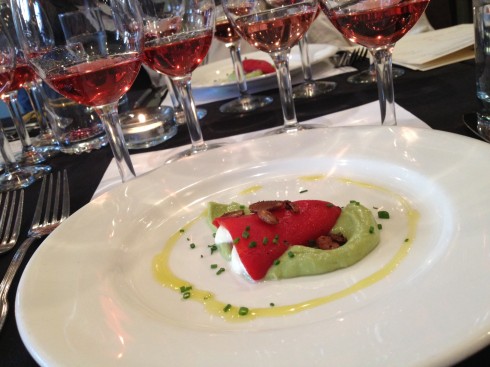 The second round of wines were all red, which is more my thing. Again, we did the whole senses thing – first observing with our eyes, then our noses, and finally by tasting!
These reds were complex to say the least. They all threw me through a loop, and I was totally off in the end when it came to guessing which one was which. The biggest shocker? Where these 8 wines were from – Italy. I seriously NEVER would have guessed these were Italian wines, including the roses. And what's even crazier is that each rose in order was from the same grower as the reds in order.
I've included the list of wines we tasted in order, from start to finish.
Roses:
 Vale reale carasuolo rosato 2013 (abruzzo)
Librandi ciro rosato 2013 (Calabria)
Mastroberardino lacrimarosa 2013 (campania)
Leone de castris "five roses" rosato 2013 (Puglia)
Reds:
Vale reale montepulciano d'abruzzo "vigneto di popoli" 2009 (abruzzo)
Librandi ciro rosso 2012 (Calabria)
Mastroberardino taurasi 2008 (campania)
Leone de castris salice salentino reserva 2010 (Puglia)
There are still 5 classes left in case you want to attend! Call today to make a reservation: (518) 584-8777
4/23 Vin de Bordeaux
4/30 Greek Wine Renaissance
5/7 Vin Blanc d'Alsace
5/14 Une Sconosciuti di Italia (Exploring the Italian
Unknown)
5/21 Gastronomic Heaven (Food & Wine Pairing)