28 Oct
Every time I go into Saratoga Olive Oil (SOO), I fall in love with a new oil. In the past, I've learned the facts behind olive oil, and even how spectacular the Southern Hemisphere Olive Oils are at SOO, but never have I ever tasted anything as unique and interesting as the new oils they're featuring right now.
Not only are the oils I'm referring to from New York State, but they're as close as Geneva, NY! That's seriously close to us.
But these oils aren't made from olives. In fact, they're actually made from seeds. Pumpkin seeds and butternut squash seeds to be exact!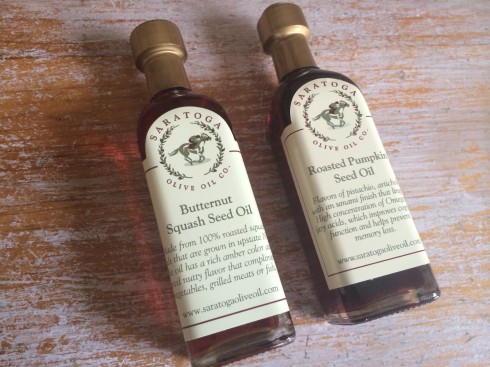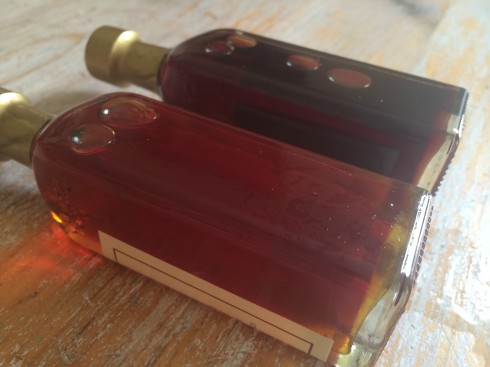 That's right – Saratoga Olive Oil has NYS produced Roasted Pumpkin Seed Oil and Butternut Squash Seed Oil, and they're both incredibly good. In the spirit of fall, they each have their own unique flavors which pair well with a variety of warm dishes as well as cold!
Produced by WholeHeartedFoods out of Geneva, NY, their butternut squash seed oil is a flavorful, healthy and local alternative to European olive oil. The BSSO contains no hydrogenated fats, chemical additives, or preservatives. The BSSO is high in polyunsaturated fat, and contains less than a third of the saturated fat in butter. It's also rich in Vitamin E, with no trans fat or cholesterol. With a smoke point of 425 degrees, this oil can be used for cooking or as a finishing oil.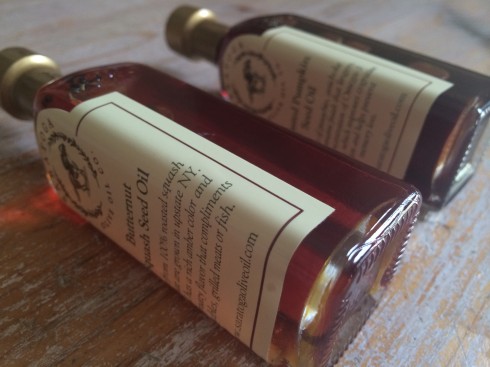 Similarly, the Roasted Pumpkin Seed Oil (RPSO) is 100% varietal oil made from oilseed pumpkins grown in NY. Again, it's all natural, expeller-pressed unrefined oil for finishing and flavoring dishes due to it's smoke point of just 270 degrees. It's made with non-GMO pumpkin seeds and is the perfect addition for fall-inspired dishes. This oil is high in mono-and polyunsaturated fats, and low in saturated fat. No trans fat or cholesterol in this oil!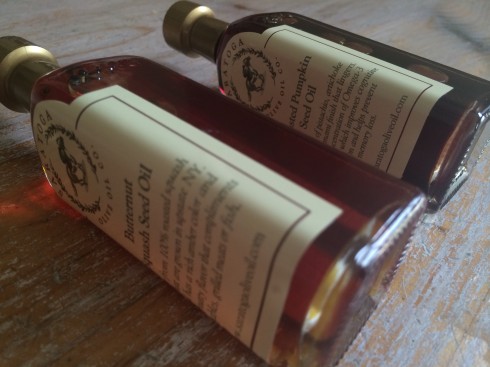 The story behind these seeds goes even further. According to their website…
"Our oils are pressed from squash seeds grown in a neighboring county in upstate NY. The farmer separates the seeds from winter squash to prepare and package fresh cut squash for supermarkets. The seeds are non-GMO and are not treated with any chemicals or preservatives after being separated from the squash.
The seeds are a green product, in more ways than one! For years, the seed was destined for the compost pile…until someone had the idea to put this byproduct to productive use. The farmer approached the helpful folks at the Food Venture Center at Cornell University for ideas…and voila, the concept of producing oil from seed waste was created. To our knowledge, we are the only company in the U.S. producing culinary oil from 100% locally sourced vegetable seeds."
I can't wait to add these oils to some of my own recipes, which of course I'll be sharing with all of you. The pumpkin seed oil has a nice, savory flavor profile, with notes of sesame and mushroom. On the other hand, the butternut squash seed oil is very nutty, great for pairing with Asian-inspired dishes like a stir fry!
Have you ever tried Roasted Pumpkin Seed Oil or Butternut Squash Seed Oil? If you haven't – now is the perfect time! Visit Saratoga Olive Oil today, and let them know I sent you!