21 Oct
When it comes to Greek food, who doesn't love a good falafel? There's just something special about a golden fried mixture of ground chickpeas and a blend of Mediterranean herbs and spices that at first sight, I tend to swoon.
That's why when I hit the Spa City Farmers Market recently and saw a food stand selling falafel, I b-lined for them and ordered without hesitation. Vital Eats, a locally owned business in Saratoga Springs specializing in hand crafted artisan sauces, condiments, spices and gourmet fare was the food stand, and I was their new favorite customer.
For $7, I had the option of getting the vegetarian falafel with or without a pita, alongside their homemade hot sauce, pickled purple cabbage and onions, and their own tzatziki sauce. But for $3 more, I was offered the lunch box, which also included two sides.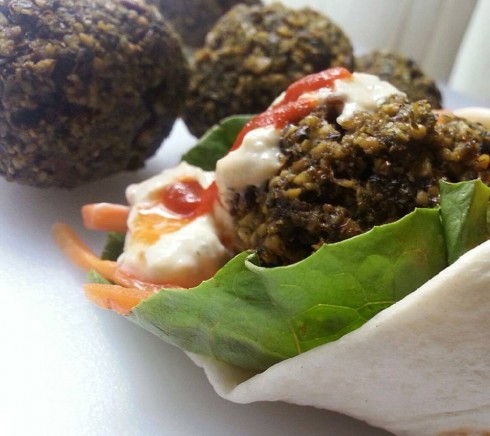 Without a second to spare, I ordered the lunch box for $10, and chose the roasted beets and tabouli to sit alongside my glorious falafel pita. The roasted beets were sweet with a slight crunch left to them, the tabouli was chilled and tasted super fresh as it should be, and the falafel, well that was the star of the meal.
The falafel itself had great flavors, and you could really taste the fresh herbs and seasonings incorporated in the ground chickpeas. The pickled vegetables were sensational, with just enough kick to keep your taste buds wanting more, and the homemade hot sauce was seriously the best I've ever had. It resembled Sriracha in thickness, but you could see chili pepper flakes in the hot sauce. It was definitely not for the faint of heart when it comes to heat, but if you like things spicy, you'd love this.
Vital Eats can be found at the Saturday Farmers Market on High Rock Ave from 9-1pm, or Sundays at the Spa City Farmers Market, off of Route 9 in front of the Lincoln Baths in the Saratoga State Park from 10-3pm.