11 Mar
Last night I attended a blogger tasting event at Good Night Noodle, the Vietnamese Noodle Restaurant opening out of Good Morning Cafe next month.
Owner Nancy Holtz along with her partner for Good Night Noodle, Linh Sullins decided it was time to let everyone in on their secret weapon that will make the masses flock to this new restaurant – the pho.
Pho (pronounced fuh) is a popular Vietnamese noodle soup consisting of broth, rice noodles, herbs and meat. Not only is pho a seriously satisfying soup, it's also incredibly beautiful to look at.
Last night's event took place at the current Good Morning Cafe, which will be transformed at night starting in April to accommodate a dining room atmosphere for Good Night Noodle.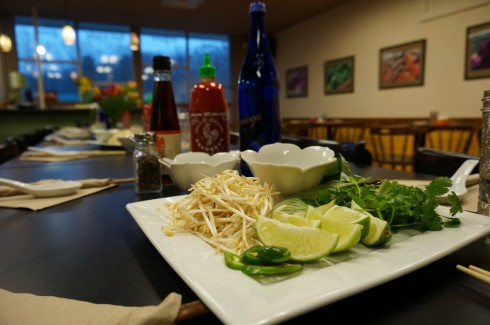 All bloggers who attended last night had the opportunity to taste both the beef pho broth as well as the vegan broth, but were also sat down and served the chicken pho. A little variation from the traditional chicken pho, Linh Sullins chose to make chicken meatballs instead of the regular shredded chicken, which just adds another exciting element to the dish.
She has also vowed not to use additives in her cooking including MSG and fish sauce, keeping everything low in sodium and healthier than your average Vietnamese dish.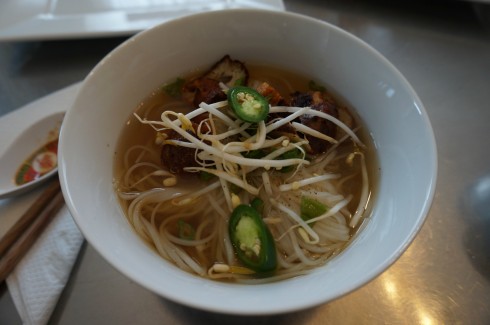 Going along with the 'Eat Good Do Good Feel Good' concept that Good Morning Cafe has, Good Night Noodle will be sourcing as much as they can from local producers, including:
Gluten Free products from Saratoga Gluten Free Goods
Fresh Desserts from Chocolate Spoon
Grass fed and Organic beef from Black River Product in Vermont
Yogurt from Local Goat Cheese Farmer
Season vegetables from Saratoga Farmers Market
There's even a local farm that will be growing herbs specifically for Good Night Noodle, which is pretty cool in my book.
Just as a reminder, Good Night Noodle has a serious mission in mind:
"While our primary goal is to provide the freshest, healthiest, tastiest food available, we are also sincerely committed to encouraging initiatives that support healthy living, sustainability and caring for others. To that end, we are excited to present our bowl for bowl Direct Impact Giving model-DIG. For each bowl of pho served at Good Night Noodle, we will purchase approximately one pound of rice for Poysomroung Village, our adopted community in Cambodia. One pound of rice will feed a Cambodian family of four for an entire day."
To learn more about their mission and to donate to their campaign, visit their Indiegogo project here.
As always, I'll continue to give you updates as I receive them, especially on the estimated opening date of Good Night Noodle!
Here are some additional photos from the event last night: