20 Dec
Saturdays are generally reserved as a day for leisure and relaxation, but not this Saturday.
Being that it's the Saturday before Christmas, today will be one of the biggest and most hectic shopping days of the year, and while I'd love to get elbowed and walk 1.5 mph in Target, I'd much rather go out for brunch and nosh on some great food.
With that said, today I'm all about eating at Zest Catering in Ballston Spa.
Many of you probably know of Zest Catering from local events, but they are also open for breakfast and lunch on Saturday's in their bistro.
Located at 3 Science Street in Ballston Spa, their tiny little cafe consists of one big farmhouse style table with approximately 14-16 seats around it. Of course, first come first serve.
I actually really loved the homey feel of everyone sitting around the table, even if it was 4 or 5 different groups all sitting next to one another.
Their extensive tea menu is totally worth mentioning, as they have really unique offerings like mexican chocolate among others that you really don't see anywhere else.
On the menu you'll find some of the traditional dishes such as eggs benedict and omelets, but there are also twists on these items, like their "fun-guy bennie" with toasted rounds, sauteed mushrooms, 2 eggs over easy, hollandaise and Saratoga Olive Oil truffle oil, which is what I ordered.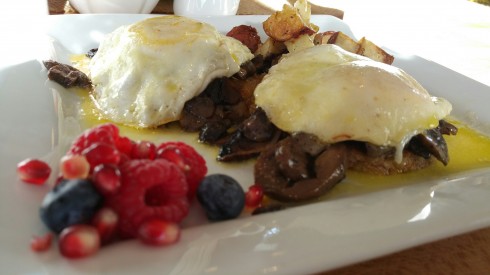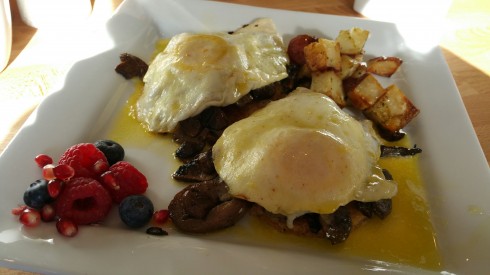 Upon first bite, it's like HOLY TRUFFLE. Your tastebuds are overwhelmed, and you're like wait, can one really enjoy this much truffle?
I went for the potatoes and many gulps of coffee to first cleanse my palate and try again. After the initial truffle shock is over, you really can enjoy and appreciate the delicateness of the truffle oil overtop these two perfectly cooked eggs and meaty mushrooms, which complement everything so nicely.
Thankful for the toasted rounds, I was able to soak up a lot of different elements and get a few bites with crunch to them, adding a good textural element that the dish needed in my case.
This is definitely not for someone who is on the fence about truffles, but absolutely something worth trying for someone who is head over heels for the stuff.
The big celebrity of the meal wasn't the fun-guy bennie though. The true star is what came after: the bacon brew salt muffin topped with maple bacon salt from Brew Salt.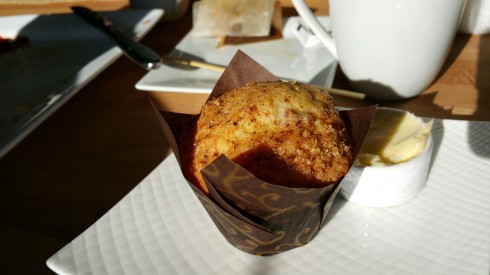 Yes, yes and yes. I want more of this all day, every day.
There was bacon cooked into the batter of the muffin. It was moist. It was light. It was fluffy. And it was the best balance between salty and sweet, which is my favorite type of sweet.
This muffin alone is worth the drive to Ballston Spa to visit Zest today!
So get in there, get a muffin, grab some fresh breakfast, and seize the day.
Zest is open for brunch between 9 and 1 every Saturday.