18 Aug
The summer might be beginning to wind down, but that doesn't mean that a view of the sunset on Saratoga Lake gets any less beautiful as the seasons change.
Dock Brown's at Brown's Beach has been open since mid-July, and if nothing else, you should absolutely visit just based on the view it has.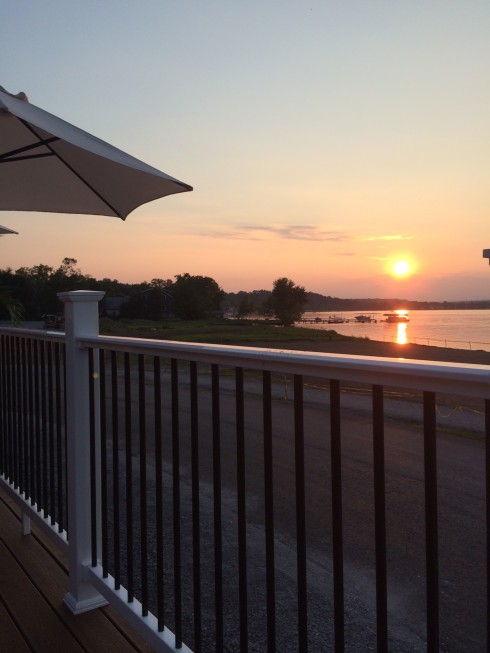 Unlike any other restaurant in Saratoga and around Saratoga Lake, Dock Brown's has a beautiful porch that makes you feel like you're on an island overlooking the water.
The menu, consisting of mostly quick and easy items such as burgers, sandwiches, and quesadillas, makes this the perfect spot for a relaxing and comfortable dinner.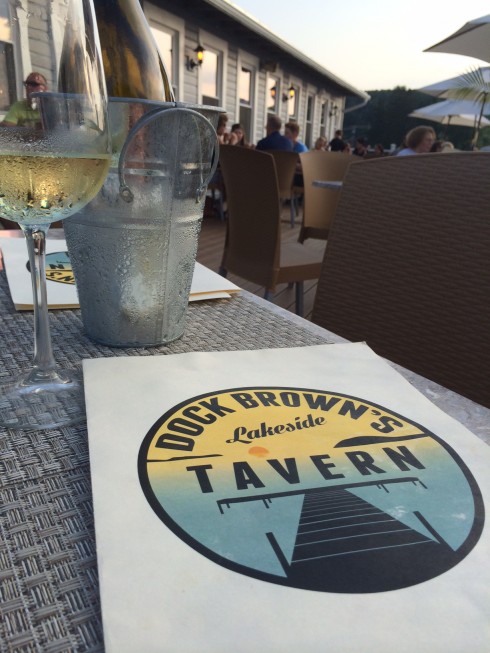 I was lucky enough to get a tasting menu earlier in the season, where Chef Michael Swift showed off his talents with dishes that were a bit more upscale than what appears on the menu, but definitely gave me a taste of what he's capable of. In case you were wondering, he's great. Very talented chef, and while he might be young, he is a powerhouse when it comes to the craft.
Since then, I've revisited Dock Brown's, getting my hands on the vegetable quesadillas.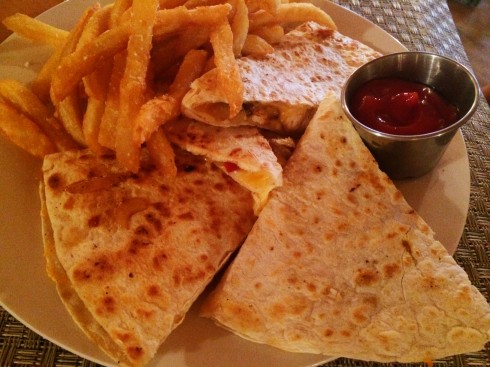 The vegetable quesadillas were filled with peppers and onions, accompanied by manchego, mozzarella and cheddar cheese. The three cheeses created a tangy and stringy filling, and slightly overwhelmed the peppers and onions. Because the onions were cooked down so much though, they added a nice sweetness to the quesadilla, which complimented the tang of the three cheeses.
The french fries are also worth mentioning, as they're crispy and crunchy, with probably more breading than actual potato. Some days these are my favorite types of fries, and others I just want that potato. Anyway – these weren't overly salty, seemed to be just about right as far as sodium goes.
After dinner I was pressured into indulging in dessert, and of course I went for the most chocolatey-peanut buttery thing I could find.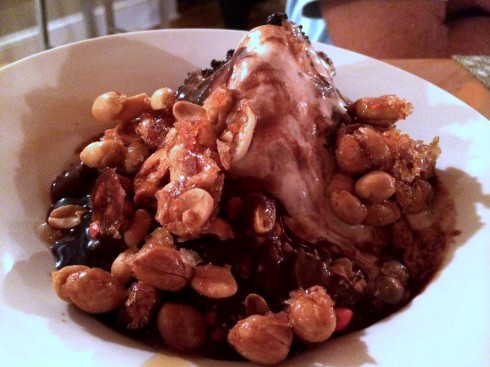 Motherload. This had it all – candied peanuts, hot fudge, cookie crumble, ice cream, etc. Too sweet? No way. The ice cream and hot fudge were milky and melted in your mouth, and then the candied peanuts added a crunch with a bit a saltiness to round it all out.
I must admit, my eyes have been on the lobster roll from the very beginning, and I'm not sure why I haven't ordered it yet. Next time I go, that'll be what I get. If you're looking to have a lavish dinner, Dock Brown's isn't the place for you. If you're looking for a place to go where you can feel totally comfortable and enjoy good food with a killer view, then you should get over to Dock Brown's asap!
Have you been to Dock Brown's yet? If so – what's your favorite thing on the menu there?!