7 Mar
Last night was the sixth and final wine class at The Wishing Well, with the star of the show being my favorite type of wines – Pinot Noirs!
Ah yes, 2 flights of Oregon vs. Burgundy, and they were so incredibly interesting.
Without even looking at my notes, I can tell you that the differences between each was very unique, and instructor Joe Armstrong did a fantastic job at pairing one Oregon with one Burgundy with similar intensities next to one another, so the class could really learn and taste the differences.
Here's what I took away:
Pinot Noir is the red wine grape of Burgundy, now adopted in wine regions all over the world
In Burgundy, the traditional vigneron focuses more on soil and climate than on the qualities of the grape variety itself
Cooler temperatures lead to fresher fruit flavors, while longer, warmer fermentations and pigeage result in more extracted wines with greater tannin structure
Oregon pinot noirs are fruitier (new world)
Burgundy wines are earthier (old world)
The Oregon wines seem to be more pleasant to sip by themselves, while the Burgundy wines all came alive with every dish we had last night
It was funny, because going through both flights, I totally loved the first of each. The second was okay, the third I didn't care for, and the fourth was like fireworks. So 1 and 4 on each flight really made me fall in love with pinot noirs over and over again. It was beautiful.
So about that food. The folks at The Wishing Well certainly wanted to end on a good note, and they absolutely did. We started with a rather small appetizer, but it smelled so delicious and tasted even better. The wilted spinach was garlicky and salty, and the potato croquet was fluffy and light.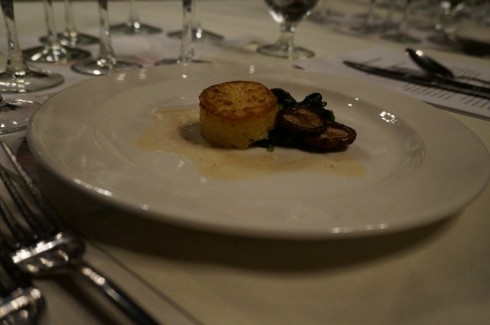 We were also served salmon with sugar snap peas with a pinot noir reduction.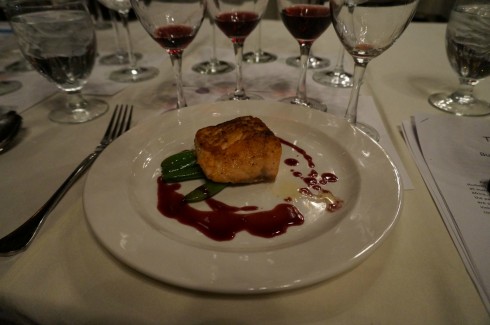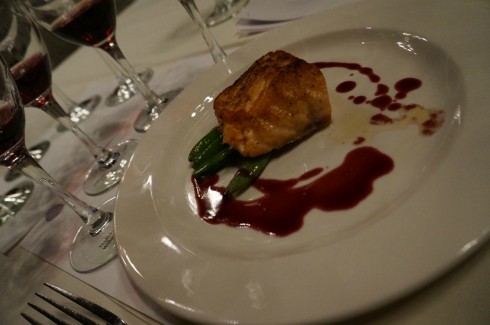 Finally, what's better than ending the evening off with some rich chocolate and reduced berries. Mmmm… nothing.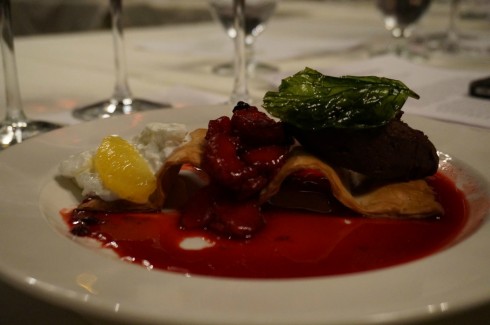 I'm sad to see this series go, but I'm so happy that I've made it through all six and I've gotta be honest, walking into wine stores will never be the same again. I've been in stores four times since starting this series, and I find myself wandering more than ever before, focusing on the French and Italian wines, and reading as much information as I can to learn about them.
As soon as there are new classes announced throughout Saratoga, I will be on that and will let you all know! Hopefully you learned a thing or two from my journey of Thursday night wine classes at The Wishing Well!
P.S. Here's a list of the wines we had last night:
Flight One:
High Hook 2012, Willamette Valley
Domaine Seguin Manuel Bourgogne 2012, Burgundy
Domaine Drouhin, 2011, Willamette Valley
Domaine Alain Burguet Gevrey-Chambertin Places des Lois 2007, Burgundy
Flight Two:
Archery Summit, Premier Cuvee, 2011, Willamette Valley
Domaine Taupenot Merme Chambolly Musigny 1er Cru La Combe D'Orveau, 2009, Burgundy
Adelsheim Bryan Creek 2010, Chehalem Mountains
Bouchard Pere & Fils Chambertin Grand Cru Clos de Beze, 2006, Burgundy